Philladelphia Zoo Advertisements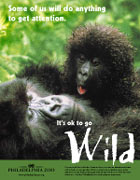 Ingredients: ad design, font selection,
This was designed as part of an advertisement campaign for the Philadelphia Zoo. The goal was to create four page layouts, a billboard and a promotional element to increase visitation and membership to the zoo. This was created as a team project with competition against other teams.
The concept behind this campaign was to create a connection between the human population and the animal kingdom through humor and comparison.